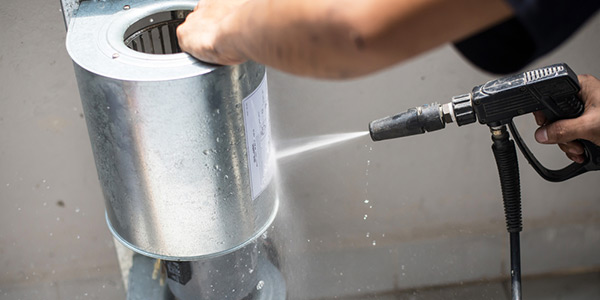 Indoor air pollutants can affect us all. They can be especially threatening to the health and comfort of young children, the elderly, those with weakened immune systems and the more than 50 million North Americans who suffer from allergies, asthma, emphysema and other respiratory ailments. Healthcare professionals generally recommend allergen avoidance as a key protective measure. Exposure to fewer airborne contaminants lessens the chance of allergic reactions.
Let's take a look at the indoor air pollutant problem. Do you or anyone in your family frequently suffer from any of these problems?
respiratory allergies
asthma
headaches
runny nose
itchy, watery eyes
sore throat
chronic fatigue
Do you have pets or smokers in your home?
Indoor air pollutants include:
dust mites
pet hair and dander
bacteria and viruses
fungi
pet odors
molds and mold odors
tobacco smoke
formaldehyde and other VOCs
household chemical odors
Air Duct Cleaning
The removal of contaminates from the entire HVAC system is recognized by the industry experts as the most effective way to eliminate air duct pollutants. This is referred to as the "source removal" method of duct cleaning. In addition to the obvious health benefits, duct cleaning can help you maintain a cleaner home. It also helps restore HVAC system capacity and lessen running time, resulting in lower heating and cooling bills.
The HEPA-AIRE method used by Air Xchange Duct Cleaning assures you that your ducts are being cleaned with the most advanced source removal equipment available. This high tech, state of the art system is used by leading professional duct cleaners throughout North America and is widely recognized as the most significant breakthrough in duct cleaning equipment technology in the past 30 years.
The key components of this system are the patented HEPA-AIRE portable power vacuum and the AIRE-SWEEP compressor. This system enable our technicians to reach and thoroughly clean your entire duct system with minimal noise and disruption.
The Process
The HEPA-AIRE power vacuum is connected to the ducts system near the furnace.
A 1 inch access holes is drilled in the air ducts
Long lengths of air hose with special 360 degree high velocity nozzles are connected to the compressor and snaked through the entire duct system to dislodged debris that has accumulated.
The HEPA-AIRE unit creates a powerful vacuum pulling dislodged contaminates into its filtration system.
Once a thorough cleaning is completed the ducts are resealed and returned to like new condition.